Welcome to Lansdowne Family Dental – The best veneers dentist in Ashburn, VA.
| | |
| --- | --- |
| Key Takeaways | Description |
| Why does Lansdowne Family Dental Provide The Best Veneers Dentist in Ashburn, VA.? | Expertise in cosmetic dentistry, personalized care, advanced technology, and high patient satisfaction. |
| Process of Getting Veneers | Four-step process: Consultation, Preparation, Fitting, and Follow-Up. |
| Types of Veneers | Mainly Porcelain and Composite Resin, each with distinct benefits. |
| Cost Factors | Influenced by material, number of veneers, and dentist's experience. |
| Financing and Insurance | Various financing options and possible insurance coverage for structural needs. |
| Maintenance of Veneers | Regular cleaning, dental check-ups, and avoiding hard foods to ensure longevity. |
| Comparison with Other Treatments | Veneers offer a long-lasting solution compared to Teeth Whitening, Dental Bonding, and Orthodontics. |
| Scheduling a Consultation | Easy scheduling via phone or online form to take the first step towards a captivating smile. |
Veneers have become a popular solution for individuals looking to improve the appearance of their smiles. These thin shells, typically made of porcelain or composite resin, are bonded to the front surface of teeth to mask imperfections such as discoloration, gaps, or misalignments.
At Lansdowne Family Dental, we pride ourselves on delivering top-notch veneer services, ensuring you leave with a smile you're proud to showcase.
Why Choose Us for Veneers?
When it comes to veneers in Ashburn, Lansdowne Family Dental stands out for several reasons:
| | |
| --- | --- |
| Features | Description |
| Expertise | Our skilled dentists have extensive experience in cosmetic dentistry, ensuring your veneers look natural and fit comfortably. |
| Personalized Care | We prioritize your unique needs and preferences, crafting a treatment plan tailored just for you. |
| Advanced Technology | Utilizing cutting-edge technology, we ensure the procedure is quick, painless, and yields outstanding results. |
| Patient Satisfaction | Our numerous satisfied patients are a testament to our high-quality care and exceptional outcomes. |
Our State-of-the-Art Facility
Our modern facility in Ashburn is equipped with the latest technology and amenities to ensure a comfortable and pleasant experience from the moment you step in. Here's what sets our clinic apart:
Advanced Diagnostic Equipment: Our cutting-edge diagnostic tools allow for precise planning and execution of your veneer treatment.
Comfortable Environment: We've created a soothing atmosphere where you can relax before and during your appointment.
Strict Sterilization Protocols: Your health and safety are our utmost priority. We adhere to rigorous sterilization standards to ensure a clean and safe environment.
Our Team of Expert Dentists
At Lansdowne Family Dental, our seasoned team of dentists is the cornerstone of the exceptional care we provide. With years of specialized training and a shared passion for enhancing our patients' smiles, you're in capable and caring hands.
Ready to take the first step towards a captivating smile? Scheduling your veneer consultation at Lansdowne Family Dental is easy. Simply call us at (contact number) or fill out our online form, and a friendly staff member will assist you in setting up your appointment.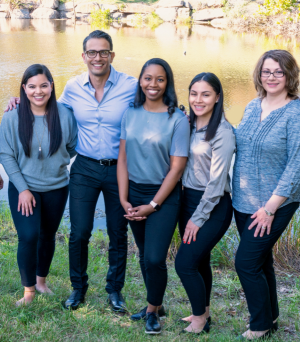 The Process of Getting Veneers at Our Clinic
Getting veneers at Lansdowne Family Dental is a streamlined process designed with your comfort and convenience in mind:
| | |
| --- | --- |
| Step | Description |
| Consultation | Initially, you'll have a consultation with one of our expert dentists to discuss your goals and determine if veneers are the right choice for you. |
| Preparation | In the next appointment, a small amount of enamel is removed from your teeth to make room for the veneers. Impressions are then taken to create your custom veneers. |
| Fitting | Once your veneers are ready, they will be meticulously fitted, adjusted, and bonded to your teeth, ensuring a perfect match and comfortable fit. |
| Follow-Up | We provide follow-up appointments to ensure your veneers are settling well and to address any concerns you may have. |
Veneer Types and Materials Provided
Veneers come in different types and materials, each with its own set of benefits. At Lansdowne Family Dental, we provide comprehensive information to help you make an informed decision:
Porcelain Veneers: Known for their durability and natural appearance.

Stain-resistant
Long-lasting (up to 15 years with proper care)
Mimics the light-reflecting properties of natural teeth
Cost of Veneers in Ashburn
Investing in veneers is investing in a beautiful, confident smile. The cost can vary depending on several factors:
Material: Porcelain veneers are more expensive than composite resin veneers due to their durability and natural appearance.
Number of Veneers: The total cost will also depend on how many veneers you need.
Dentist's Experience: The expertise and reputation of the dentist may also influence the cost.
Here at Lansdowne Family Dental, we provide transparent pricing and ensure there are no hidden costs involved.
Financing and Insurance for Veneers
We understand that the cost of veneers can be a concern, which is why we offer various financing options to cater to different budgets:
Maintenance and Longevity of Veneers
With proper care, veneers can last for many years, providing you with a dazzling smile:
Regular Cleaning: Just like your natural teeth, veneers should be brushed and flossed daily.
Regular Dental Check-ups: Ensure long-lasting results by visiting us for regular check-ups and cleanings.
Avoiding Hard Foods: While veneers are durable, it's wise to avoid biting down on hard foods to prevent any damage.
With Lansdowne Family Dental by your side, maintaining your veneers is a breeze. Our team is here to provide you with all the necessary information and support to ensure your veneers stand the test of time.
When it comes to enhancing your smile, there are several cosmetic dentistry options to consider. Here's how veneers compare to other popular treatments:
| | | | |
| --- | --- | --- | --- |
| Treatment Option | Description | Benefits | Downsides |
| Veneers | Thin shells bonded to the front surface of teeth | Natural appearance, Long-lasting, Corrects multiple issues | Cost, Permanent alteration to teeth |
| Teeth Whitening | Bleaching treatment to lighten teeth | Cost-effective, Quick results | Temporary, May require multiple sessions |
| Dental Bonding | Resin material bonded and shaped to teeth | Less expensive, Minimal tooth alteration | Less durable, May stain over time |
| Orthodontics (Braces, Invisalign) | Devices to realign teeth | Permanent correction of alignment issues | Lengthy treatment time, Cost |
Contact Lansdowne Family Dental Today
Ready to transform your smile with veneers? Contact Lansdowne Family Dental today to schedule your consultation. Our friendly and knowledgeable team is here to answer any questions you may have and guide you on the path to a more beautiful smile.
FAQ on Veneers
How long do veneers last?

With proper care, veneers can last 10 to 15 years or longer.

Are veneers covered by insurance?

Veneers are typically considered a cosmetic procedure and may not be covered by insurance. However, coverage may be available if veneers are required for structural or functional reasons.

Is the veneer procedure painful?

The procedure is generally painless, but some patients may experience slight discomfort. We ensure to keep our patients comfortable throughout the process.