Welcome to Lansdowne Family Dental, the beacon of implant and cosmetic dentistry in Leesburg, Ashburn, and Lansdowne, VA. Our passion lies in delivering unparalleled dental services and groundbreaking orthodontic solutions. In this comprehensive guide, we'll shed light on the magic of Invisalign, a game-changing teeth alignment method that promises a discreet and comfortable transformation. Dive with us into the realm of Invisalign and understand why it's the go-to choice for a captivating smile.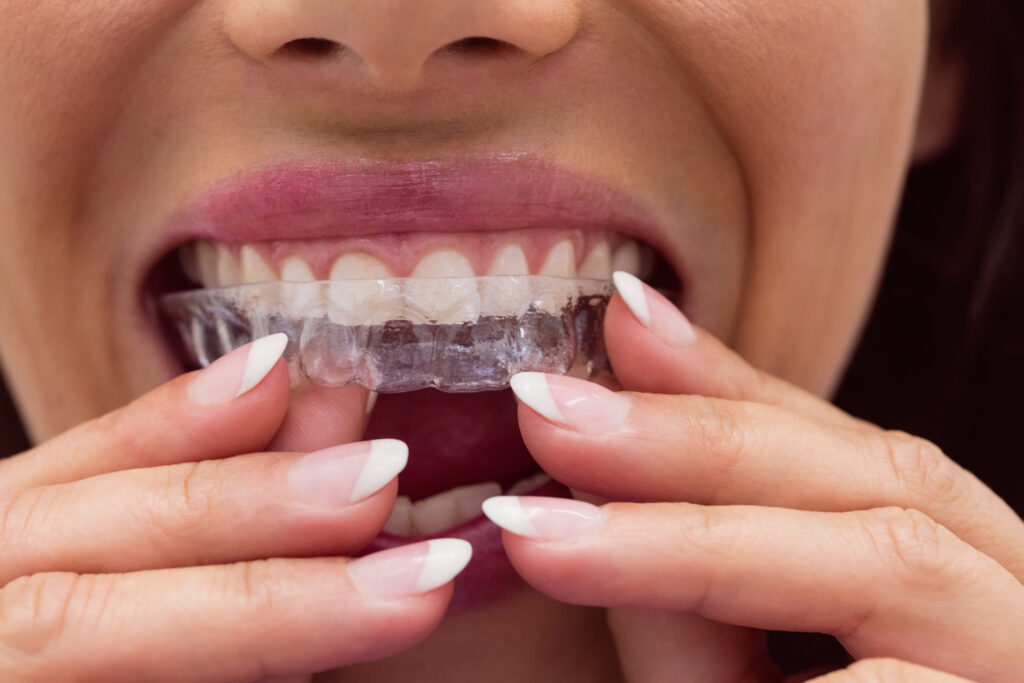 Invisalign Treatment At Lansdowne Family Dental
At Lansdowne Family Dental, we recognize the power of a captivating smile. It's more than just aesthetics; it's about confidence, self-worth, and overall happiness. Our proficiency ensures a holistic approach to your dental aspirations. Our Invisalign treatments stand testament to our commitment to excellence, blending state-of-the-art technology, individualized care, and a nurturing ambiance.
What is Invisalign?
Invisalign is a revolutionary orthodontic solution that employs transparent aligners to methodically adjust your teeth to their perfect positions. These aligners, unlike the conventional braces, are almost invisible, making them a preferred choice for those who value discretion. Custom-fitted for your teeth, they're designed to be worn for roughly 20-22 hours daily, ensuring ease during meals and dental care routines.
Why Choose Invisalign?
Subtle Confidence: Traditional braces can sometimes be a cause for self-awareness. Invisalign offers a nearly invisible alternative, ensuring you can align your teeth without the spotlight. Made from smooth, BPA-free material, they guarantee comfort and negate the discomfort linked with metal components.
Effortless Dental Care: Invisalign simplifies oral care. The removable nature of the aligners means regular brushing and flossing remain unhindered, minimizing risks associated with traditional braces.
Freedom in Diet: Enjoy your favorite dishes without any constraints. Just take off the aligners during meals, relish your food, and ensure you brush before putting them back.
Comfort Meets Convenience: Custom-tailored for your teeth, Invisalign promises a snug fit. Plus, with fewer dental visits than traditional braces, it's all about convenience.
Swift Results: Often, Invisalign can deliver quicker results than its traditional counterparts. The duration is subjective to individual needs, but it's generally a more streamlined approach.
Your Invisalign Journey at Lansdowne Family Dental
Consultation & Planning: Kickstart your Invisalign experience with an in-depth consultation. Our Invisalign dentist will evaluate your dental structure, discuss your objectives, and chalk out the treatment blueprint.
Crafting Your Aligners: Post your decision, and we'll capture digital imprints of your teeth. Leveraging 3D imaging, we'll craft a meticulous plan detailing your teeth's journey from their current stance to the desired alignment.
Aligner Transition: Once crafted, you'll receive a series of aligner sets. Each set, worn for approximately two weeks, will incrementally adjust your teeth. Adhering to the 20-22 hours daily wear is pivotal for timely results.
Progress Tracking: Regular check-ins will be scheduled to monitor the treatment's efficacy and make any required tweaks.
Post-treatment Care: After achieving the desired alignment, retainers will be provided to maintain the results, ensuring your smile remains timeless.
Final Thoughts
At Lansdowne Family Dental, our dedicated team of dental professionals is committed to helping you achieve a confident and radiant smile with Invisalign treatment. With our expertise in implant and cosmetic dentistry, we provide exceptional care in a warm and welcoming environment. Experience the transformative power of Invisalign at Lansdowne Family Dental, your premier implant and cosmetic center in Leesburg, Ashburn, and Lansdowne. Schedule your consultation today and take the first step towards a beautiful smile that will last a lifetime.
Invisalign FAQs
1. How long does the Invisalign treatment typically take?
The duration of Invisalign treatment varies depending on the complexity of each case. On average, treatment can range from 6 to 18 months. During your initial consultation at Lansdowne Family Dental, our experienced dentist will assess your specific needs and provide a personalized treatment timeline.
2. Can anyone get Invisalign?
Invisalign is suitable for many individuals seeking to correct common orthodontic issues such as overcrowding, gaps between teeth, and bite misalignments. However, it is essential to have a consultation with our dental team to determine if Invisalign is the right treatment option for you.
3. Is Invisalign treatment painful?
Invisalign treatment is generally considered more comfortable than traditional braces. While some patients may experience mild discomfort or pressure when transitioning to a new set of aligners, it is temporary and a sign that the treatment is working. If you ever have concerns about your comfort during treatment, our team at Lansdowne Family Dental is always available to address your needs.
4. How often do I need to wear my Invisalign aligners?
For optimal results, it is recommended to wear your Invisalign aligners for 20-22 hours per day, only removing them for eating, drinking (except for water), brushing, and flossing. Consistent and proper wear of your aligners is crucial to achieving the desired outcome within the projected treatment timeline.
5. Can I eat and drink with my Invisalign aligners on?
No, it is not recommended to eat or drink anything other than water while wearing your Invisalign aligners. Removing the aligners during meals allows you to enjoy all your favorite foods without any dietary restrictions. Be sure to brush your teeth before reinserting the aligners to maintain good oral hygiene.
6. How do I clean my Invisalign aligners?
Keeping your Invisalign aligners clean is simple. Rinse them with lukewarm water after removing them from your mouth, and brush them gently with a toothbrush to remove any debris. Avoid using toothpaste as it can be abrasive and cause damage to the aligners. Additionally, remember to brush your teeth thoroughly before reinserting the aligners to maintain optimal oral hygiene.