Welcome to Lansdowne Family Dental – The best general dentist in Ashburn, Leesburg, and Lansdowne, VA
| | |
| --- | --- |
| Key Takeaways | Details |
| Why We Are the Best General Dentists in the Region | With a team of highly qualified and experienced dentists, state-of-the-art technology, and a patient-centered approach, Lansdowne Family Dental provides exceptional general dentistry services tailored to meet the individual needs of each patient. |
| Comprehensive Dental Services | We offer a wide range of dental services including preventive, cosmetic, restorative, pediatric, and emergency dental care to cater to the diverse needs of our patients. |
| Expert Dental Team | Our dedicated team of professionals is passionate about delivering excellent dental care, ensuring you're well-informed and comfortable with your dental decisions. |
| Community Involvement and Education | Actively participating in community services and education initiatives to promote dental awareness and empower our community with the knowledge to maintain good oral health. |
| Financial Flexibility | Providing various payment plans and accepting most dental insurance plans to ease the financial aspect of dental care. |
| Easy Appointment Scheduling | A straightforward online booking system allows for easy appointment scheduling at a time convenient for you. |
| Patient Safety and Comfort | Adherence to strict sterilization and disinfection protocols, ensuring a safe, comfortable, and hygienic environment for all our patients. |
General Dentistry is the cornerstone of dental healthcare, ensuring your oral wellness is in optimal condition. At Lansdowne Family Dental, we prioritize your dental health by offering a broad spectrum of general dentistry services tailored to meet the individual needs of each member of your family.
Our dedicated team of experienced professionals is here to guide you through every step of your dental care journey, providing a comfortable and welcoming environment for all our patients.
Regular dental check-ups are instrumental in maintaining a healthy smile. They allow for early detection and treatment of dental issues before they escalate into more severe problems. At Lansdowne Family Dental:
Preventive Care: We emphasize the importance of preventive care to keep dental diseases at bay.
Oral Examinations: Our thorough oral examinations help in identifying any signs of gum disease, oral cancer, and other dental issues.
Meet Our Expert General Dentists
Our dental team with Dr. Wael Elosta, is comprised of qualified and experienced professionals who are passionate about delivering excellent dental care. With a wealth of knowledge in the dental field, we provide expert treatments and advice, ensuring you're well-informed and comfortable with your dental care decisions.
Making an appointment at Lansdowne Family Dental is a straightforward process. Our online booking system allows you to choose a convenient time for your visit. On the day of your appointment, our team will warmly welcome you, ensuring a smooth and prompt consultation with our expert dentists.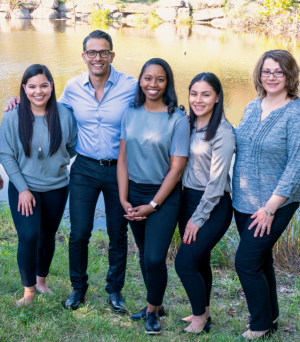 Dental Services Offered by Our General Dentists
At Lansdowne Family Dental, we provide a range of services designed to maintain and enhance your oral health:
| | | |
| --- | --- | --- |
| Service Category | Description | Procedures Included |
| Preventive Dentistry | Aimed at preventing dental issues | Dental Cleanings, Oral Examinations |
| Cosmetic Dentistry | Enhances the appearance of your smile | Teeth Whitening, Dental Veneers |
| Restorative Dentistry | Restores the function and appearance of teeth | Dental Implants, Dentures, Crowns |
| Pediatric Dentistry | Dental care tailored for children | Pediatric Dental Cleanings, Fluoride Treatments |
| Emergency Dental Care | Provides urgent care for dental emergencies | Pain Management, Emergency Extractions |
Also, we offer:
Dental Cleanings: Regular dental cleanings help in preventing cavities and gum disease.
Fillings: We offer durable and aesthetically pleasing fillings to restore decayed teeth.
Root Canals: Our gentle root canal treatment aims at saving infected or severely damaged teeth.
Whether it's teeth whitening or dental veneers, our cosmetic dentistry services are designed to improve the appearance of your smile, boosting your confidence and overall oral health.
Restorative Dentistry for a Healthy Smile
Restorative dentistry at Lansdowne Family Dental aims to bring back the natural look and function of your teeth. Our services include:
Dental Implants: A long-term solution for missing teeth, providing a natural look and feel.
Dentures: Custom-fitted dentures to replace missing teeth and restore your smile.
Dental Crowns: Durable crowns designed to cap damaged teeth, bringing back their natural appearance.
Our Pediatric Dentistry and Early Oral Care
Introducing your children to good dental habits from an early age is crucial. At Lansdowne Family Dental, we provide a child-friendly environment that makes dental visits enjoyable. Our pediatric dentistry services are tailored to meet the unique needs of young smiles, ensuring a positive dental foundation for your children.
Dental emergencies can occur at any time, and knowing what to do can be lifesaving. At Lansdowne Family Dental, we provide urgent care for dental emergencies, ensuring prompt treatment to alleviate pain and prevent further damage.
Immediate Attention: We prioritize dental emergencies, providing immediate attention to alleviate discomfort.
Guidance: Our team guides you in managing the situation until you reach our office for treatment.
The Patient Experience at Lansdowne Family Dental
At Lansdowne Family Dental, we strive to provide a comfortable and pleasant experience for all our patients. From the moment you step into our clinic, our friendly staff is here to ensure you feel at ease. Our patient testimonials reflect the high level of care and satisfaction experienced at our practice, showcasing our dedication to creating lasting relationships with our patients.
Advanced Dental Technology for Better Diagnoses
Utilizing advanced dental technology, we ensure accurate diagnoses and effective treatment plans. Our state-of-the-art equipment, such as Digital X-rays and Intraoral cameras, provides detailed images, aiding in precise treatment planning and ensuring the best outcomes for our patients.
Our Financial Options and Insurance Plans
At Lansdowne Family Dental, we offer various payment plans and accept most dental insurance plans to ease the financial burden and ensure you receive the necessary dental care without delay.
Frequently Asked Questions
What services are offered at Lansdowne Family Dental?

We provide a comprehensive range of dental services including preventive, cosmetic, restorative, pediatric, and emergency dental care.

How often should I visit the dentist?

It's recommended to have dental check-ups every six months, or as advised by your dentist based on your individual oral health needs.

What insurance plans are accepted?

We accept most dental insurance plans. It's advisable to contact our office for detailed information regarding insurance acceptance and billing.

How can I schedule an appointment?

Appointments can be scheduled online through our website or by calling our office directly.

What should I do in case of a dental emergency?

In case of a dental emergency, contact our office immediately for guidance and to arrange for urgent care.

What measures are in place for patient safety?

We adhere to strict sterilization and disinfection protocols to ensure a safe and hygienic environment for all our patients.
Conclusion
Your journey to optimal dental health begins with choosing the right dental care provider. At Lansdowne Family Dental, our dedicated team is committed to providing personalized and comprehensive dental care for you and your family.
With a wide array of dental services and a patient-centered approach, we are here to guide you every step of the way toward achieving a healthy, beautiful smile.